Please scroll down for availability calendar.
Off-season Rates: November 2018 to April 2019:  $125 per night (2 night minimum) or $800 per week
May 1, 2019 to June 14, 2019:  $225 per night (weekend), $200 per night (weeknight), 2 night minimum
June 15, 2019 to September 2, 2019: $1850 per week + $75 exit cleaning
September 3 to October 31, 2019:  $250 per night (weekend), $175 per night (weeknight), 2 night minimum
Treat yourself to this modern year round lake house with all the comforts of home — maybe even more! We are 30 yards from the Lake Erie beach, the second house from the lake, on a quiet road — we are closer to the lake than some of the lakefront homes making this home a great value. Located in North East, PA we are on the 23 member Lake Erie's Wine Country trail, and the growing Lake Erie Ale Trail where you can venture out for tastings and events at 10 wineries within 8 miles. Adults love our decor, furnishings and thoughtfully supplied house. Children are delighted here.
We offer the beach, the lake, many wineries, a quaint downtown and world-class fishing. You'll notice a slower pace of life and a small town atmosphere.
Ladies: We love ladies getaway groups. Wineries offer year round tasting. Bella Day Spa is close by and you can reserve the party room for your ladies to meet up between spa appointments. Ask me about private wine glass painting classes, private yoga, or in-home cooking classes for your weekend. Read about how to plan a ladies weekend getaway.
Fishing
Steelhead and bass stream fishermen and guided fishing tours are welcome. We are right between 16 Mile & 20 Mile Creeks in North East, PA where steelhead season typically begins in November and runs through March.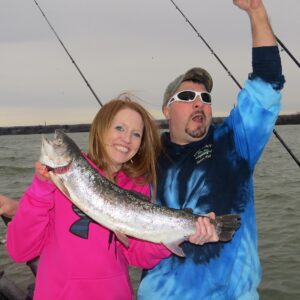 Relax in the comfort of this stylish home which was completely renovated and professionally decorated… a beautiful year round cottage living setting inside and out.
Larger groups can rent both of our homes – please see our other listing The Little Red Lake House. Our two vacation rentals are on the same quite road — just 3 homes apart. Rent BOTH homes to accomodate up to 16 people.
The Lake House
Main Floor: living area, kitchen, eating area, 3 bedrooms (bedsizes: queen, full, 2 twins and queen air mattress) and bathroom with shower/tub unit.
The fully equipped kitchen includes stainless appliances, a large Thermador refrigerator/freezer with icemaker, microwave, Keurig and carafe coffee makers, dishwasher, garbage disposal, blender, mixer and crockpot.
Second Floor
Loft living area equipped with 42″ plasma TV, Blue-ray Disc player, comfy sectional sofa, board games and toys.
Other Features:
Central air conditioning
Warm and cozy in the winter, central air heat and fully insulated  – not drafty like older cottages
Washer and dryer are provided in the garage. Washer is 'winterized' from November through April, and cannot be used during those months.
The Lake House Property
Very private, quiet road with only 12 homes, no thru traffic
Access to private beach for residents/guests only
One house away from the beach entrance – closer to beach and easier access than some lakefront homes
Easy walkable beach access – no bluff/cliff/staircase.
Natural Lake Erie shoreline with stones, sand, driftwood. See more photos on Little Red's page.
Concrete driveway parking can accommodate up to four cars or a boat — or a game of pick-up basketball – hoop provided. Launch your kayak or sailboard right from the beach, or your jet ski or larger boat from the North East Marina, 1.4 miles east. You can launch your boat from the Marina and then anchor it in front of our beach during the day so you can come and go to the cottage.
The home uniquely sits on 2 lots with grassy areas for playing yard games. Kids love the tree swing. The backyard is private… only the yard and the creek about 15 feet down with access points via stairs or level at the beach. You can enjoy a small camp fire in the backyard of the cottage or at the beach.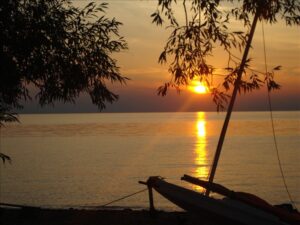 Cabin Life At The Lake
Walk on the shore, look for beach glass and roast marshmallows at the beach as you take in beautiful sunsets. We head to the beach in the evenings with a cup of wine to view the sunset, a different show each evening. Some nights are cloudy with subtle color and some nights are brilliantly colorful. The kids happily play at the shoreline, in the creek, in the lake and warm-up to the campfire as they make s'mores. Treasures abound year round — beach glass, beach stones, driftwood, and other ordinary objects weathered to 'treasure-status' by water and time. Kids find their imaginations here.Bring your bikes. Kids can bike up and down our quiet street. You can be more adventurous and take advantage of longer bike rides as well. Cycling tours and maps available at Lake Country Bike in North East.
Town of North East, PA
Located 18 miles east of downtown Erie, the quaint Victorian town of North East offers locally owned businesses such as The Bean coffee shop, Grape Country Market (all local products and artisans), Studio M or Bella Salon and Day Spa (massages!), the popular Skunk & Goat Tavern (formerly The Cork 1794), Noosa North East (restaurant overlooking the North East Marina and Lake Erie), Sander's Jubilee Grocery, CVS drug store and more. During the summer and fall buy freshly picked produce at one the roadside farm stands. 10 wineries are within 8 miles. Trail rides and pony rides nearby at Double DAB.
Spring Events In Lake Erie Wine Country
Spring is a popular time for ladies getaways. Girlfriends, bachelorettes, moms, quilters, bookclubs, scrapbookers, yogis, and crafters — we have hosted them all.  Ladies love us, for our style, cleanliness, and let's be honest — the local wineries. The Skunk & Goat Tavern and Noosa North East are two popular restaurants with our ladies groups.
Summer Events In Lake Erie Wine Country
Free outdoor concerts at local wineries are offered by Penn Shore, Lake View, and Arundel
"Thursdays in the Park" is a summertime family-friendly event featuring farmers' market and live family entertainment
North East Firemen's Cherry Festival is mid-July
Fall Visits In Lake Erie Wine Country
Fall is a very popular time to visit. The sensory delights of the grape harvest in September and October are hard to describe. The aroma of ripe grapes throughout our town is strongest in September when a simple drive through our area is a treat. In October the fall leaves reach their peak color. There is excitement in the air during this time and a buzz at the wineries which bustle with wine tasters. During the fall you can often see the grape-harvesting tractors in the vineyards from sun-up to sun-down. Areas close to the lake tend to benefit from the warmer lake temperatures, adding a few degrees of warmth to the air.
The cooling weather of late October and into November signal the migration of steelhead (rainbow trout) back into their stream of origin for spawning. Visitors come from all over the world to fish the Lake Erie streams, including Walnut Creek and Elk Creek on the west side of Erie, and 16 Mile and 20 Mile Creeks both of which are within 2 miles of our rentals. The fishing season for steelhead generally runs from November through March, with November and March typically the most productive months in  "Steelhead Alley."  We welcome fishing groups and guided fishing tours.
Fall Events:
Fishing & Boat Parking
16 & 20 Mile Creeks are within 2 miles for great steelhead fishing in the streams November through March.
Walleye, perch, lake trout and bass fishing locally. 2018 was an incredible year for walleye fishing. Fishermen were limiting out in record timing.
The North East Marina, just 1.4 miles east, offers reasonable daily rates for a slip rental and boat parking, plus bait and licensing services. Looking for a Lake Erie Charter? Ask me for recommendations.
Erie College Visits – Parent Weekend Visits – College Graduations
Mercyhurst University, North East – 3 miles
Penn State Behrend, Erie – 15 miles
Gannon University – 17 miles
Mercyhurst University, Erie – 19 miles
LECOM Medical, Dental, or Pharmacy School, Erie – 24 miles
Scroll down to see calendar availability.  Also check our other home, Little Red.